A trade show floor is filled with attempts to get your attention. Having worked in the trade show industry, we have noticed the gimmicks fall into three categories:
Uninspired: A simple presentation every 30 minutes. They're having a raffle for some Apple product. They're giving away poorly designed t-shirts.
Clever, but doesn't connect: The gimmick has little to do with the audience they're trying to reach. They may think of a fun idea that's drawing a huge crowd, but they're gathering leads from people who would never buy their product.
Clever, and it connects: The gimmick and the theme are actually related to each other, and it's an original idea.
What follows are five ideas we've seen at trade shows, and we really like them because they're clever and they connect.
1: Catch someone's attention with an Airzooka
https://youtube.com/watch?v=Jsjm0gop-H4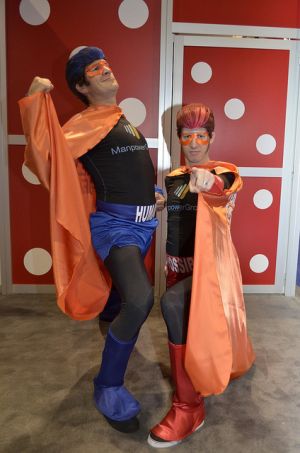 What it is: An Airzooka is a device that shoots a targeted puff of air up to 20 feet away. They only cost $18 and they can easily catch someone's attention from a distance.
The application: At a SHRM National conference in Atlanta we saw two guys for Manpower dressed up as superheroes shooting people with puffs of air. It always got people's attention. When they realized what was happening they laughed and turned around only to enter that booth they were walking right by. Often they took a photo with the superheroes.
Why it works: The superheroes were literally drawing drifting attendees back to the booth.
2: Mechanical bull tosses attendees
What it is: A mechanical bull in the middle of a trade show floor with a barker giving both the play-by-play and color commentary.
The application: I witnessed this being used by Fusion.io, a producer of solid state drives, at the Interop conference in Las Vegas. They painted a mechanical bull to look like a traditional hard drive and said that you should toss the hard drive like the hard drive is going to toss you.
https://youtube.com/watch?v=nYsDL1U0aAI
Why it works: The theme made sense, it was an enormous attractor, made great video (here's one I shot above), and the barker was excellent getting people excited about the carnival like atmosphere they were creating.
3: A self-contained social photo booth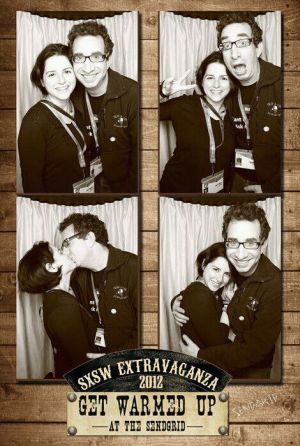 What it is: A photo booth that individuals can control and share socially all through the booth user interface. No need for a photographer.
The application: At SXSW, SendGrid set up a do-it-yourself photo booth both in taking the photo and also sending the photo via your social network.
Why it works: We've seen tons of photo booths and often the "attractor" is you can dress up in dollar store costumes. Those are rather idiotic, cheesy, have nothing to do with most quality brands, and they draw the wrong crowd. People just want a photo of themselves and they want to share it with their audience. This photo booth did that very easily and seamlessly.
4: Life-size collectible figurine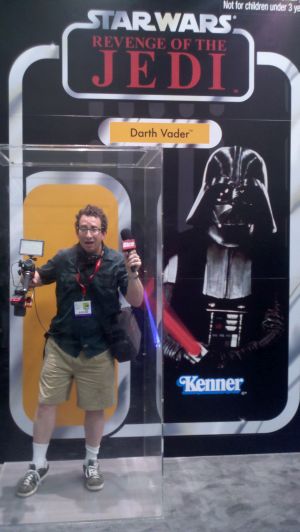 What it is: A well-designed booth element that looks like a life-size packaging for a Star Wars figurine. There's an entry for you to walk in and pretend you're a collectible.
The application: At Comic Con in San Diego, this self-contained booth element invited people to step inside and take a photo of themselves as a Star Wars figurine.
Why it works: The structure told the story and invited people to come in to take a photo. Often elements like this are so poorly designed that they require someone shouting at people to come in and take their photo. This wasn't necessary at all as the structure spoke for itself and it was fun to jump in and turn yourself into a figurine. It also spoke to the collectible obsession of people who attend Comic Con. It was perfect for this audience.
5: Monster-size game of "Operation"
What it is: A "larger than life"-size version of the game "Operation" which was not called that obviously for legal reasons. It was ironically called "Malpractice."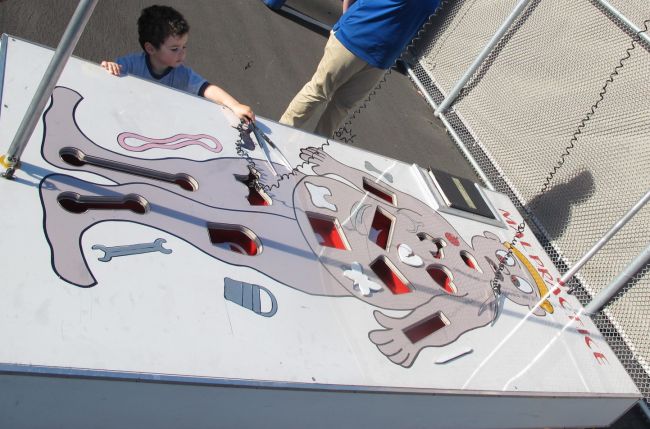 The application: We honestly didn't see this at a trade show but at an event in a parking lot in San Francisco.
Why it can work: This would be hysterical to set up at a medical conference and have actual surgeons play the game. It would make instant industry press. Who's going to use it first?