Every day the Internet supplies an avalanche of advice as to what you should and shouldn't do in social media.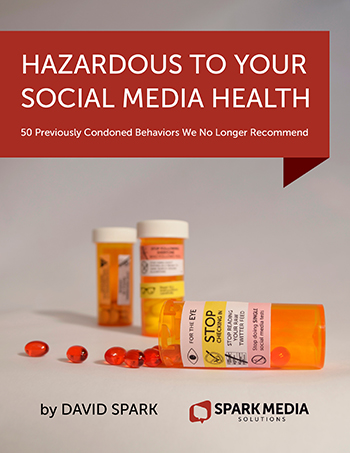 I've come to a point in my career where I don't need advice from people I don't know telling me what more I should do. What I'd welcome is some advice on what I should stop doing. That's why I decided to reach out to industry influencers and asked them, "What was once considered good advice regarding social media that you either did, advised, or agreed with, but now, given the rapidly changing social media landscape, you no longer recommend?"
The net result is this ebook, "Hazardous to Your Social Media Health: 50 Previously Condoned Behaviors We No Longer Recommend" which includes quotes and advice from 56 influencers (listed below).
Early reviews for "Hazardous to Your Social Media Health"
"It's one of the most entertaining, best 'how-to' (or in this case, 'how-not-to') social media guides I've ever read." – Ashley Coombe, All Inclusive Marketing
"I LOVE, LOVE, LOVE this book! And I haven't even seen my quote yet! Fantastic graphics too. I agree with 101 percent of the chapter titles." – Dan Janal, PRLeads
"Really impressed with this.  Smart, thoughtful, and virtually devoid of BS."
– Lori Edelman, SecondSelfMedia
Register now and you'll get the ebook for free, plus be subscribed to Spark Notes* (current issue) where you'll get weekly new media goodies like funny status updates, videos, and articles to help you to market your business. If you don't want this awesomeness sent to your Inbox, no worries, you can unsubscribe at any time and still enjoy the ebook.
Get the eBook
Whether you like or hate the ebook, please write a review. Feel free to leave it here, or contact me directly. Positive and negative feedback welcome. I can take it.